A little update on life via the photos from my phone. (i.e., Instagram.)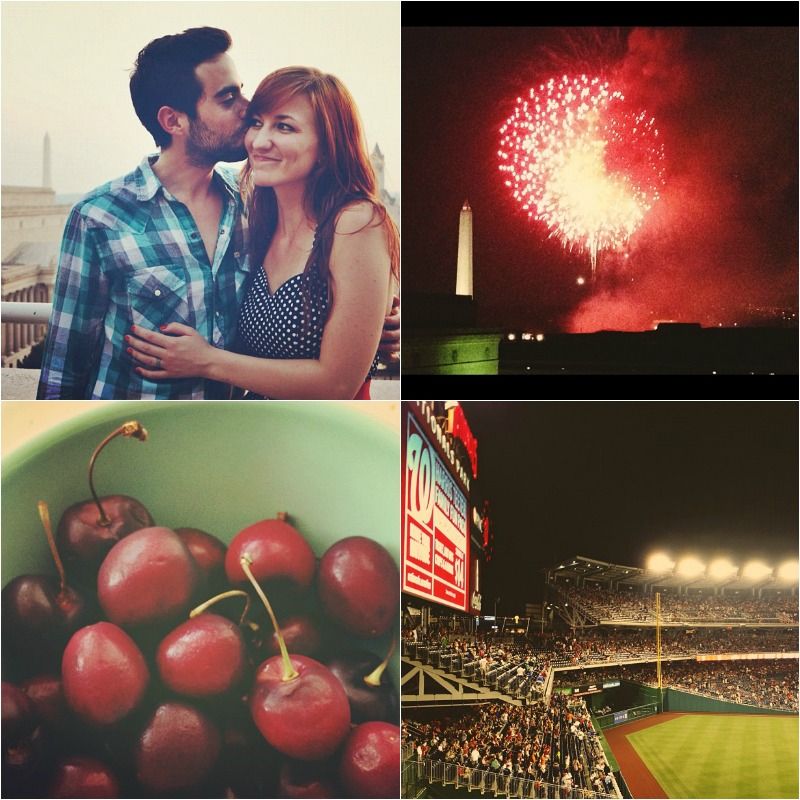 // 1. Andrew and I on the
4th of July
, waiting for the fireworks to start
.
// 2. We had a great view of
the fireworks
from Andrew's rooftop.
// 3. Afternoon snack. I swear I could eat an entire bag of cherries in one sitting.
// 4. I went to my first Nationals game a few weeks ago. I felt so wrong being there since I'm a Brewer's fan, but it was still fun to experience. I'm glad I went, even though we got rained out!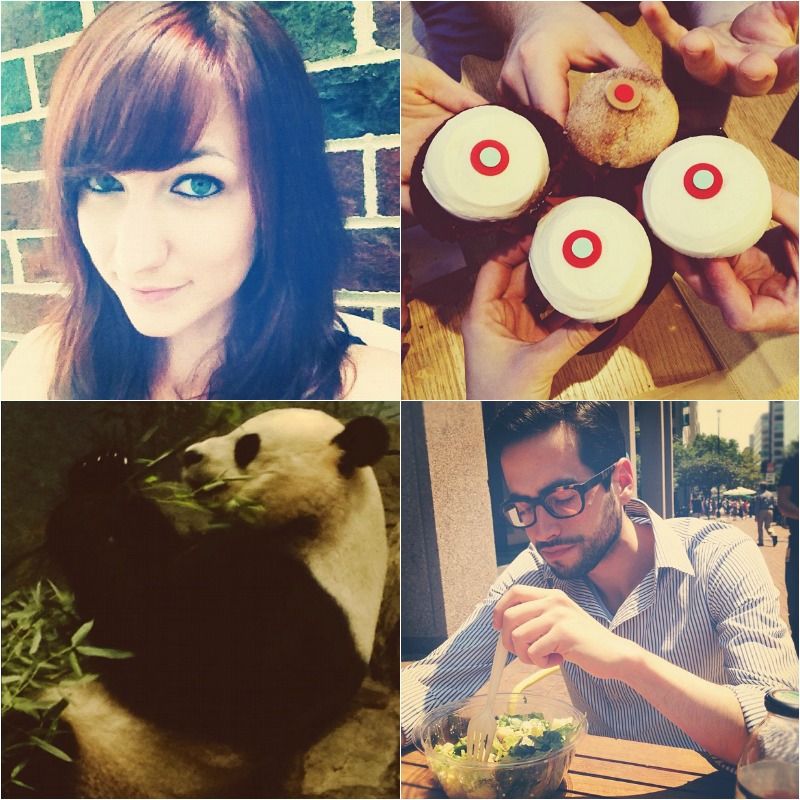 // 1. Though you can't really tell here, I colored my hair BRIGHT red recently. The box said "Sweet Pepper" and for some reason I refused to believe it would actually come out looking like a pepper. It's starting to fade now, but yikes, it was bright!
// 2. To celebrate our one year anniversary of moving to the East Coast, my roommates took Chris and I out for cupcakes. Aren't they sweet?
// 3. There are real pandas at the zoo in DC! I've never seen one in real life, so it was pretty awesome being able to watch them for a while. My nickname growing up was Manda Panda. :)
// 4. An afternoon lunch with my handsome at Sweet Green. Yum!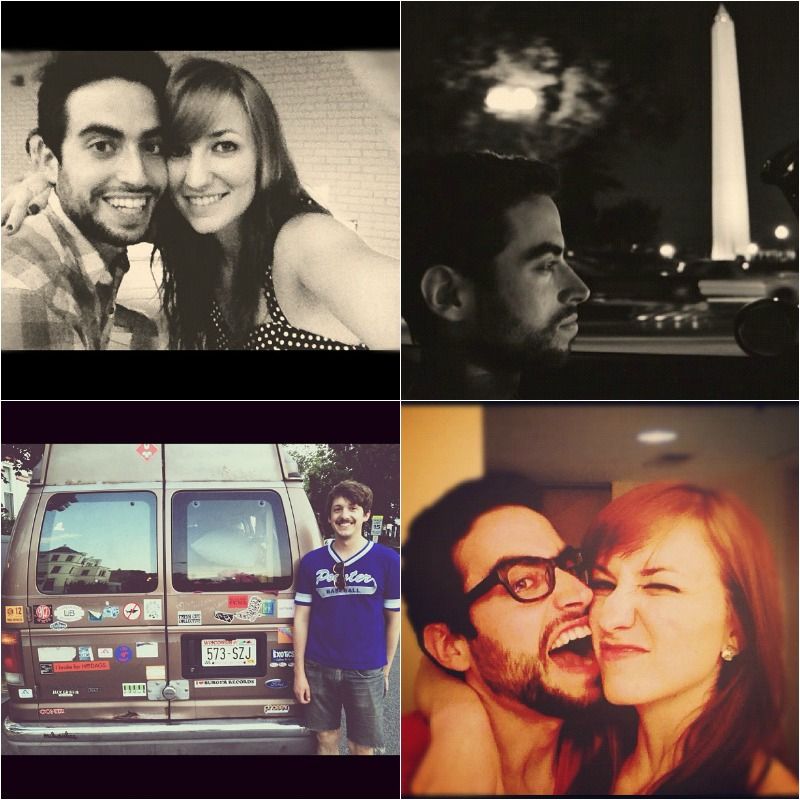 // 1. Andrew and I on the
4th of July
, relaxing and eating cupcakes with friends.
// 2. Andrew picked me up in a convertible one night and
we drove around the city
, taking pictures and listening to music. It was a really nice surprise. Someday I'll own a convertible...
// 3. My friend Derek's band,
The Fatty Acids
, were on tour last month, and when they came to DC, we grabbed some dinner and caught up before we headed over to the venue for the show. They were really great of course, and it was so good seeing Derek!
// 4. Andrew and I celebrated our anniversary at the end of June; I really can't believe a whole year has gone by already! Time flies when you're having fun, right? ♥ ♥ ♥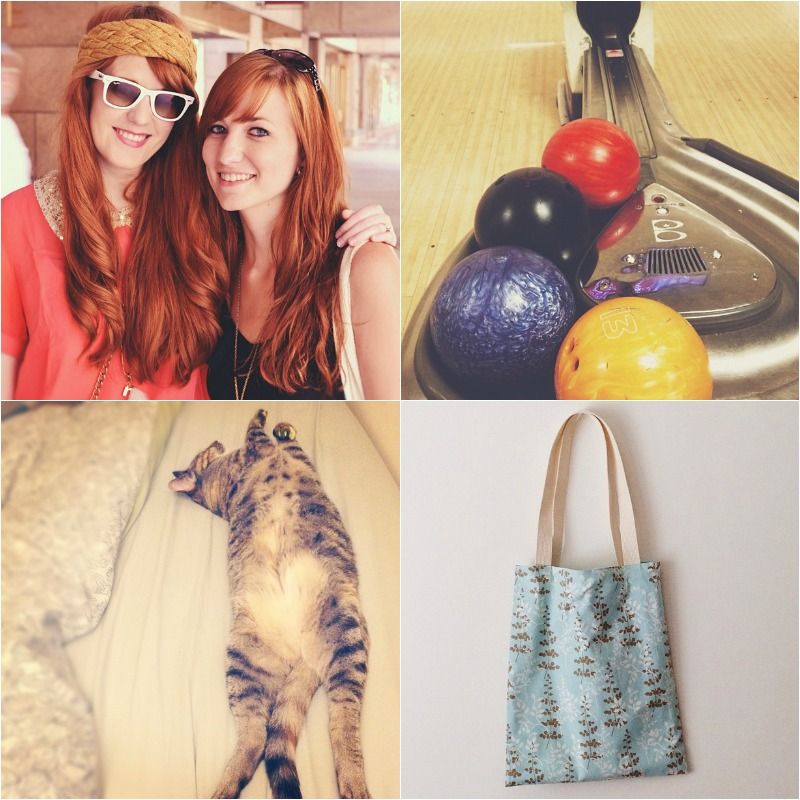 // 1. I met up with
Natasha
while she was visiting her brother in DC a few weeks ago and we grabbed lunch downtown. Our time together was short, but I'm still so glad I got to see her. I'm really looking forward to our next meet-up!
// 2. Bowling with the roommies like the true Wisconsinites that we are. :)
// 3. Mia is the best kitty, ever. Ever!
// 4. A little Sunday project. I used fabric from some curtains I made years ago and turned it into a tote. Fun, fun!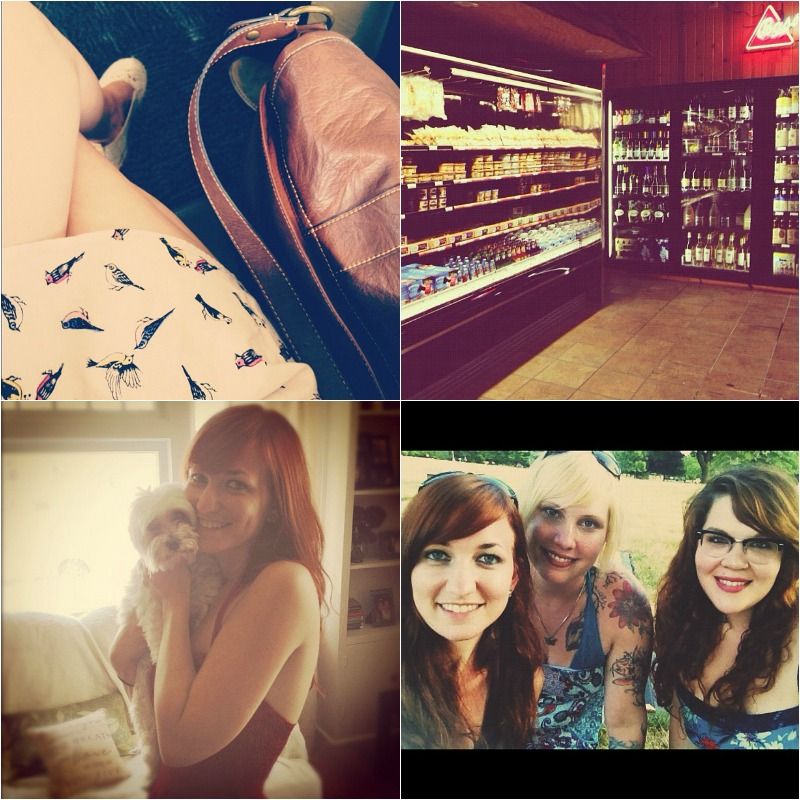 // 1. Waiting for my plane at the airport. (I took a spur of the moment trip to Wisconsin a few days ago.)
// 2. How can you tell if you're in Wisconsin? Every gas station has at least one entire case of JUST cheese for sale, as well as endless displays full of beer.
// 3. I got to see Winston! He's my friend Ashley's doggie and I love him so much!
// 4. My friend Megan was visiting Wisconsin from Texas this weekend, so I'm glad we were able to time it right and meet up. We got together with Gina as well. I love and miss them every day. It's really hard living so far away from your best friends, but visits like this definitely make up for it.
If you'd like to follow me on Instagram, my user name is @amanda_face. :)